Lemon Pasta with Shrimp Scampi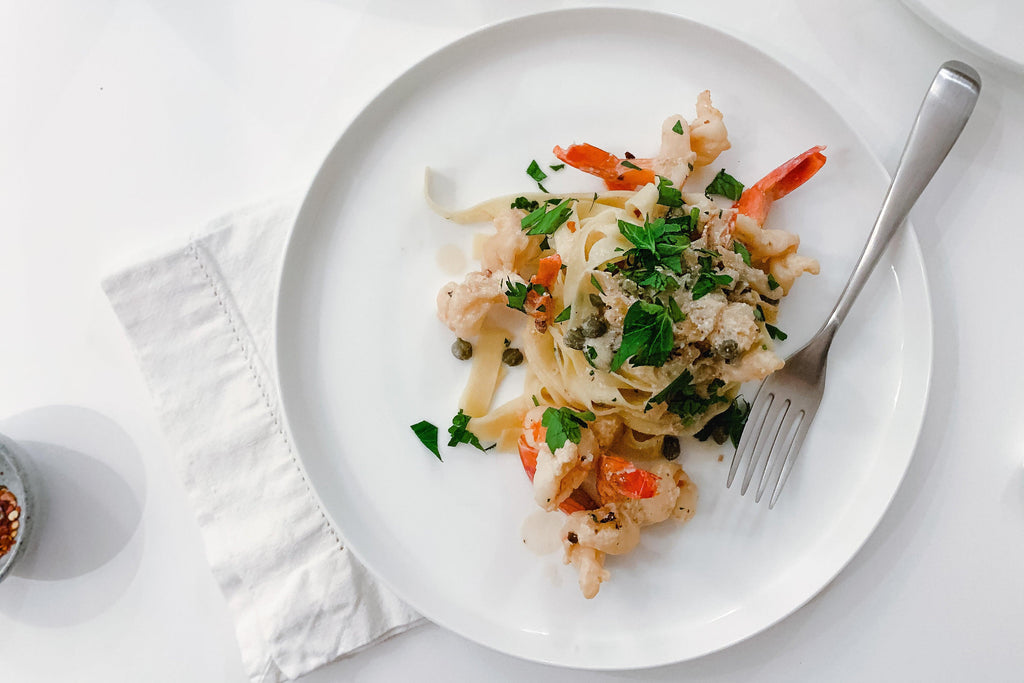 It's been quite a long time since our last lifestyle journal entry, but this winter was an especially challenging one for many this year. As I look out the window into the snow-covered fields, it seems as though spring can't arrive soon enough. I hope we will all be able to enjoy the company of friends and family once again soon.
This past year, I have especially missed my annual trips with loved ones. Whenever I go abroad, I always try to incorporate a little side mission to source new items for the shop. Last September was especially memorable, as I was fortunate enough to find myself at the Ambiante homewares show in Paris. To say the least, the show was breathtaking, but what followed was even more amazing.
During our trip to France, we spent two weeks in the South — exploring a countryside full of vineyards, cheese shops, orchards, gardens and restaurants filled with local charm. One night, in a French chateau overlooking a vineyard and garden, we enjoyed a beautiful dinner of Preserved Lemon Pasta and Shrimp Scampi. It was so delicious that it took our breath away! Paired with a glass of beautiful wine, this dish was one to note.
Today I travel back to France through this dish. I just love preparing it for my family as it transports me back to that vineyard. I am so happy to be able to share this recipe with you as well. 
I hope you will enjoy it with your family and take care when preparing this special lemon pasta dish. 

Cheers,
Dorota
---
Lemon Pasta with Shrimp Scampi
TOTAL TIME: 30-45 MINS
Ingredients:
10-16 large shrimp
1 tbsp olive oil
2 cloves fresh garlic
2 tbsp capers, rinsed
2 preserved lemons, rinsed and julienned (Our choice is Royal Selection Moroccan Preserved Lemons or Beldi - Thin-Skinned Preserved Lemons)
½ cup white wine
2 tbsp chopped fresh Italian parsley
1 lb pasta
Dash of red pepper flakes
1 cup cream
Shaved parmesan
+ Pasta of choice (We love Cipriani - Tagliolini Classic)
Prepare the shrimp by washing, and deveining them. Next, cut each shrimp length-wise up until the tail. This will allow them to curl up in the pan. 
In a large frying pan, place oil, crushed garlic, capers, preserved lemon, and pepper flakes. Sauté for a few minutes to warm. Add the shrimp and cook until pink. 
Add white wine and simmer for a 5 to 7 minutes. Add cream. Keep warm on low. Cook pasta to al dente and drain. Add pasta to lemon sauce.
Toss and serve topped with lemon juice, chopped parsley and shaved parmesan.
Download the recipe card here!