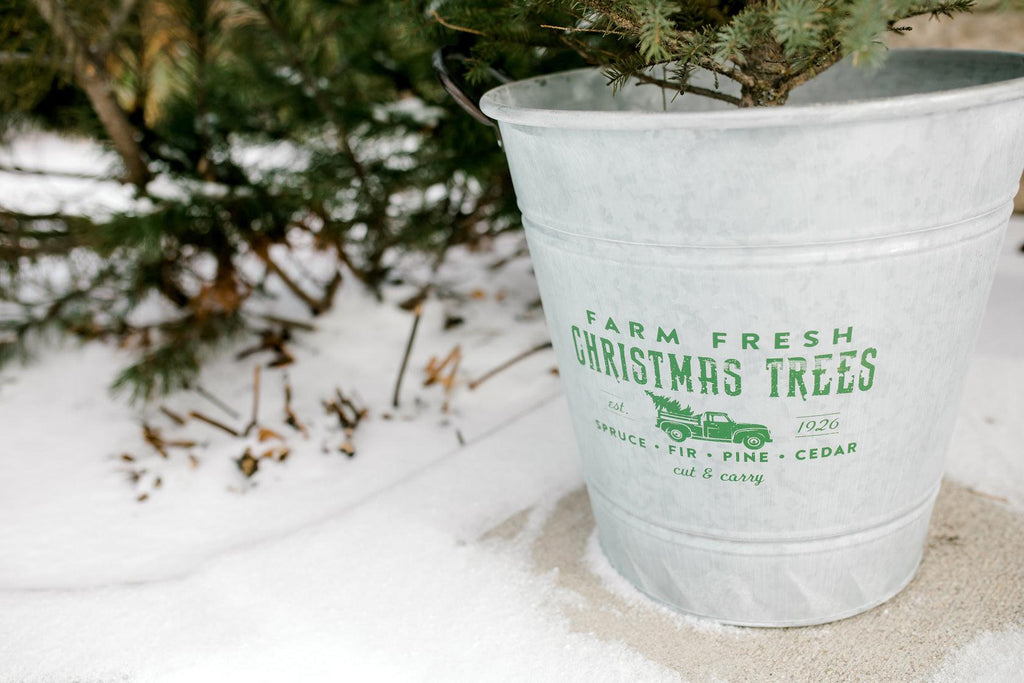 It feels like fall forgot to visit us here in Winnipeg. With the recent ice storm that affected so many people, we are hoping things will return to normal and we can start enjoying the upcoming holiday season. 

Here at the store, we've been busy getting ready for exactly that! With new holiday goods arriving daily, you can be sure to find everything you need when it comes to gifts, entertaining, decorating and more! 
This Just In: Holiday Fir Trees! 🌲
Holiday Fir trees are now available at the shop! These gorgeous trees come in a charming metal bucket and are the perfect indoor/outdoor decoration for a rustic holiday look.  Pre-orders run between November 6th - 26th, and will be available for pick up or delivery the week of December 9th! Supplies are limited - so hurry fast!
New! The Insider Card
In other news, we're happy to introduce to Grace & Co. our brand new customer insider program. This paid membership entitles you to a discount of 10% off all merchandise in the store with an additional 5% when we have sales. The card is designed to work in the store only and entitles you to exclusive privileges like guaranteed spots at events and first access to specials in the store. Limited membership cards available! Contact us to register!
Featured artist: Rosalie Olson
We are so excited to welcome local Winnipeg artist Rosalie Olson to the boutique's gallery wall. Rosalie works in watercolour, acrylic, mixed media and oil. She expresses her creative spirit through an experimental painting process that involves layers and layers of blended yet bold colour combinations and intriguing textual marks. Her work intentionally invites a different emotional response viewing up close than from afar. Rosalie is passionately drawn to create art that reflects her awe of the beauty of nature and through colour and texture, strike a poetic balance between expressionism and abstract art.
Recipe: Potato Mushroom Strudel
Ingredients:
1 tbsp butter
1 onion, sliced
1 clove garlic, minced
1 cup sliced mushrooms (shiitake,  oyster)
4 potatoes (1 lb)
1  tbsp  chopped  fresh  thyme
2 tbsp water
1/4 cup freshly grated Parmesan cheese
1 green onion, chopped
Salt and pepper
4 sheets phyllo pastry
1/4 cup butter, melted
Directions:
In a large skillet, melt butter over medium heat. Cook onion, garlic and mushrooms, stirring for 5 minutes or until soft and liquid is absorbed.
Peel and cut potatoes into 1/4" dice to make 2/3 cups. Add to pan along with 2 tsp thyme. Cook for 2 minutes.
Add water, cover and cool, 8-10 minutes until tender. Remove from heat. Stir in Parmesan cheese and green onion. Season with salt and pepper. Let cool.
Place 1 sheet of phyllo pastry on work surface. Butter and repeat with 3 more sheets. Butter in between sheets.
Spoon mixture over phyllo, leaving 2" border along 1 long side and a 1" border at each short end starting at the other long side. Carefully roll up jelly roll style, folding edges while rolling. Place seam down on a parchment-lined cookie sheet. Brush with butter. 
Bake at 400º for 18-20 minutes or until crisp and golden. Let cool 5 minutes. Sprinkle with  remaining  thyme. Slice diagonally with serrated knife. Serves 4.
I hope you enjoy this recipe as much as I do!
With care,
Dorota