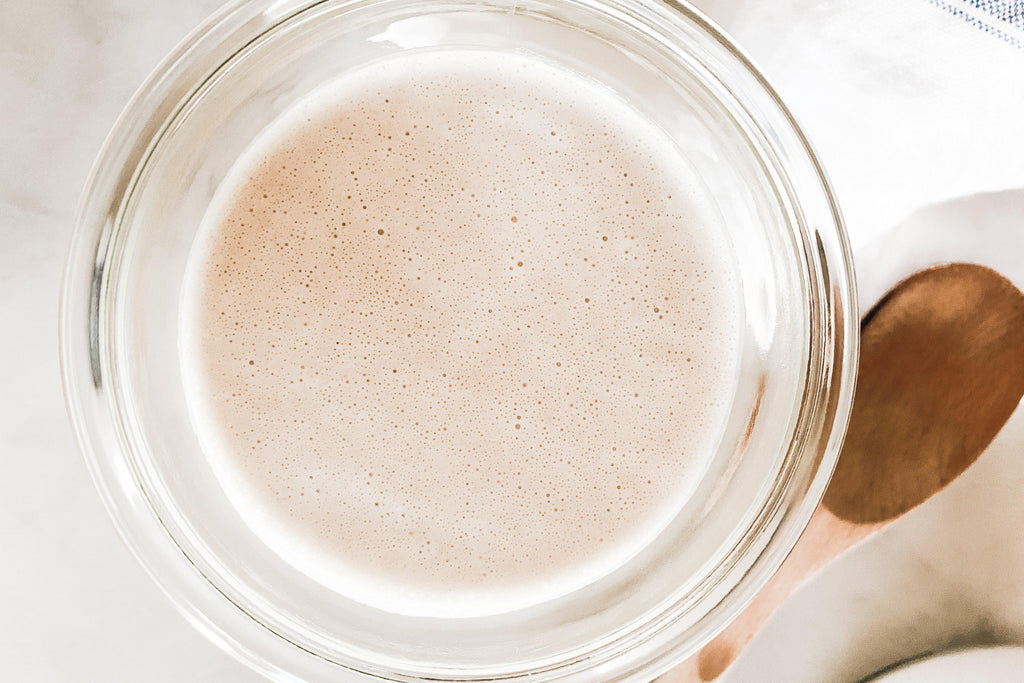 Since we have been all stuck at home now for the past six weeks, most of us have turned to baking and cooking to help pass the time. Even though there was a flour shortage, baking is a great way to spend these days at home. Baking can be a great way to relieve stress while also learning a new life skill.
For myself, I always wanted to improve certain cooking and baking techniques. The biggest one for me was learning how to make a better sourdough. I am excited to share a sour dough starter (my go-to) recipe that I have used for the past 25 years.
Sour Dough Starter
Ingredients:
2 cups warm water
1 Tbsp sugar
2 Tbsp dry yeast
2 cups unbleached flour
Directions:
Pour warm water into a glass bowl. Add sugar and let it dissolve. Sprinkle the yeast over the top and let that dissolve. Slowly incorporate the flour 1/4 cup at a time. Cover with a clean dishcloth and place in a warm place. The mixture will start to bubble eventually. Let the mixture sit for 2-5 days, stirring daily. Once ready, texture should resemble creamy pancake batter, and should have a mild sour smell (not strong).
Starters can last years, so keep it alive for as long as you want! *
*Sour Dough Starter will last for years if you feed it equal parts water and flour every time you use it. For example: for 1 cup starter used add 1 cup flour + 1 cup water stir and leave on counter overnight. In the morning, stir and place back in the fridge until needed. If not using: once a week discard 1/2 cup and add 1/2 cup flour and 1/2 cup water. Stir and leave overnight on the counter then refrigerate
I have been noticing in the past few weeks the many different ways people are have been making their own starters. My personal advice for a good starter is to be aware that sometimes it doesn't always go to plan. A lot of factors can determine the outcome - from the bacteria in your home to the temperature of your environment - can all contribute to the success of your starter. Starter also get better with time, and needs a lot of love and attention to ensure it lasts and maintains its delicate balance.
You can use starter for more than just sour dough, in fact, I've loved adding it to other bread recipes like these easy homemade bagels!
Homemade Bagels
Ingredients:
1 cup warm water
1/2 cup starter
1 1/2 tbsp brown sugar
1 1/2 tsp salt
3 1/2 cups flour
Directions:
Preheat oven to 425F. Add starter to warm water and let sit 5 mins. Next, add the rest of the ingredients to a stand mixer and mix with a dough hook for about 10 minutes. Once a dough forms, rest covered for 1 hour.
After resting, divide dough into 8 equal parts. Shape each of the sections into a bagel by forming a small ball and poking a hole into the middle. Stretch until desired shape is achieved.
Once all the bagels are formed, boil the bagels in water for about 1 minute each side. Transfer to a baking sheet and brush with either egg wash or melted butter. Sprinkle seasonings on top. (Poppy seeds, sesame seeds, cheese, everything bagel seasoning, etc!)
Bake for 20-25 minutes at 425F. Let cool and enjoy!
Some equipment I love using for this are heavy French wooden spoons to mix and turn the dough in a large mixing bowl like this whitewashed dough bowl, or these gorgeous enamel ones from the Prep Set by Falcon Enamelware. To store the starter, Weck glass jars are great to keep it safe in the fridge over time. Having a cozy apron is also a nice touch! 
As we near the end of April and head into May, I hope we will start to see some sort of normal return to our lives. Thank you to everyone who has continued to support local by shopping online!
Happy baking & keep well,
Dorota